Military Style Dog Tags Online

Welcome to IDentiTag, where we supply military style dog tags online, embossed with your choice of message, using a genuine US military embossing machine. Use our Tag Builder page to design your tag set - choose from a range of colours, and type in your own text.
We offer genuine military style dog tags, or you can choose from a range of specialised tags, including black Special Forces tags, medical alert tags, brass, a range of bright metallic colours and even pets tags. Prices start from $10.99 for a single personalised tag or $14.99 for a classic double set and from $15.99 for coloured and metallic sets.
Our dog tags are light and tough; they won't corrode, and their uses are endless: jewellery, stag and hen's nights, ID for adventure sports, event souvenirs, child ID tags, fancy dress, luggage labels, a special message ... or even as dog tags. Not just for men, but they are an ideal gift for somebody who plays Fortnite online or just likes the look.
HISTORY OF DOG TAGS
Since the Taiping revolt in 1851 the Chinese Imperial Army and the Taiping rebels wore a wooden tag clipped to their belt bearing the soldier's date of enlistment, name and date of birth. In the Franco-Prussian war in 1870 the Prussian army was issued identification tags nicknamed Hundermarken. In the first World War they were produced in aluminium, stamped with the name, date of birth, rank, and regiment. The earliest forms of ID tags can be found as far back as 400BC when Spartan soldiers used to break a stick in half with specific markings on them. The survivors would collect their other half after battle so they could count their dead.
. ..Read more
---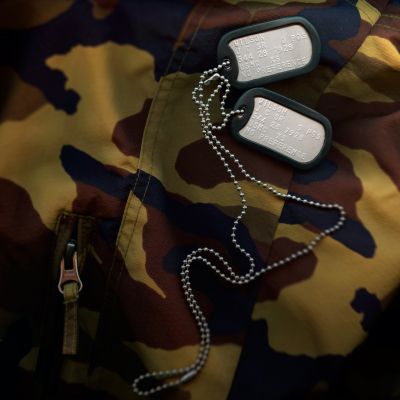 Make dog tags online using the IDentiTag Tag Builder page to design, preview and order a set of personalized army dog tags from our range. Mix and match from a wide range of different tags, silencers and chains to choose a set that's unique to you. All of our embossed tags are produced using the latest GSA (US Government approved) high speed electric embossing machines and all of our supplies are of the highest quality and sourced exclusively from US Government approved vendors.

We offer accurate replica US Army stainless steel dog tags, or you can choose from a range of specialised tags, including black Special Forces, brass, copper, coloured anodised aluminium.
---
Or choose one of our top products