Silver Dog Tags

The perfect gift for men - silver dog tags embossed with your very own personal message for a special day or occasion. These gorgeous dog tags are made of solid sterling silver, and personalised with your message, they would make a lovely and unusual gift for a really special occasion.They are embossed with a certified US American Army embossing machine for the authentic look and classic style. 
Silver Dog Tags for Men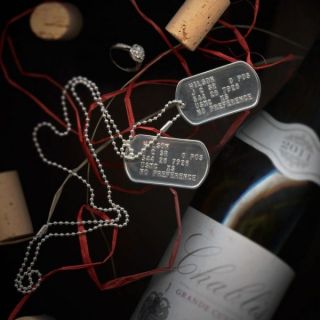 The price of £145 includes having the tags embossed with your own customised message and each tag can be embossed differently and personalised to your exact specifications which make it a perfect birthday or Christmas present for anybody would would appreciate these stunning classic tags.
Men's jewellery at it's finest. Take a look here for ordering. 
Embossed with your own message using a certified US Army embossing machine
2 x solid silver dog tags with black silencers
1 x long sterling silver ball chain, 1 x short sterling siler ball chain.
Each tag: 50mm x 28mm x 1mm, weight 7g
Tag material: sterling silver
Chain material: sterling silver
Weight of tag: 7g
Long chain length: 60cm
Short chain length: 11cm
Silencers: Silicone